(Wow, these photobucket thumbnails are pretty small...)
The inspiration photo we (the painting teacher and I) decided upon last week. This is one of my favorite pictures of her--or it would be, if it hadn't come out so blurry.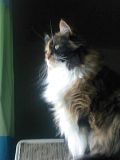 The long-and-narrow format that we discussed.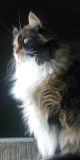 Roughly an hour of yesterday's class was transferring the sketch to the canvas.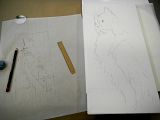 And about two hours of class was doing the underpainting.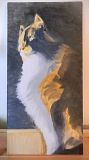 Colors used for the underpainting were: ultramarine blue, raw umber, yellow ochre, and white (but I think we don't actually count the white?). The "black" is ultramarine mixed into raw umber. You can see a little blue peeking out down at the bottom right corner.
Painting beside one of the cat trees because it amuses me.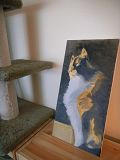 I was rushed at the end of class. I said that I'd do the rest at home and was told to finish covering the canvas before leaving. Hmm. Well, there are still a few adjustments I want to make to the underpainting before next week's class.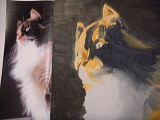 (I will say it's pretty good though, if I was forced to keep it at just the two hour's worth of work. But I have time, so I don't want to settle.)