It took well over two hours last night to get from this: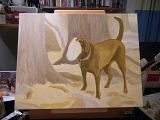 to this:
but it was worth it.
Still have a long way to go, but I feel more confident now that I can do it.
Had to use much smaller brushes than the last time I tried to do her head. And instead of trying to do discrete blocks (blobs?) of different shades of yellow brown, I tried filling in a larger area--well, large only like less than half a square inch can be--completely with one shade, then waiting for the paint to set a bit, and then going in to add darker and lighter bits on top.