I think some sellers over at Etsy might need lessons in how to best use their dogs as sales agents.
For example:
http://www.etsy.com/listing/50878724/vintage-galvanized-metal-watering-can?ref=v1_other_2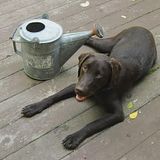 Nice use of dog. Nice dog, too. Looks like a young Checotah.
http://www.etsy.com/listing/53631396/enameled-pot-lid?ref=v1_other_2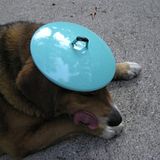 Um. Questionable use of dog. Though making the pot lid look like a beret is amusing, dogs and food prep items are not a match made in heaven (much to dogs' disappointment, I'm sure).
http://www.etsy.com/listing/48510035/mega-glitz-vintage-rhinestone-necklace?ref=v1_other_2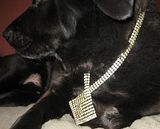 ... Nice dog. Looks like Charlotte. I can't imagine any human wants to wear this now. Makes my neck itch looking at it. And unfortunately for glam-loving dogs, I don't think this would be safe for them to wear for long...