I experimented with making paper this weekend.
I learned that it isn't hard, but it's time-consuming and messy... and my cat likes to walk across drying paper. O_O
This was a couple old 'zines that I didn't like and some bits of cotton yarn. The yarn did not behave as expected. Shall try something a bit different with the yarn next time.
The front. Doesn't look too bad. (In real life, it's light gray, not pinkish.)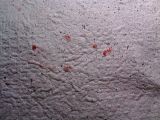 The back... looks like a microscope slide with bacteria on it...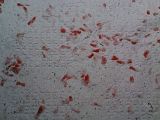 (The full-size pictures are larger than life.)