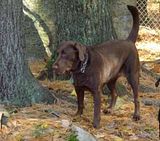 Inspiration photo
The Chickie underpainting as last we saw it, several weeks ago.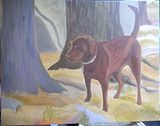 After Monday night's class... (taken Tuesday afternoon, you can see in the close-up that a good chunk of her hind leg is still wet)
After about an hour and a half Tuesday evening. I'm being pretty sloppy at this point. Still trying to get a feel for what I want to do with the color and texture.
(This photo was taken this morning. I made no changes to the color of Checotah herself last night--nor to the big, big rocks in the back ground. The differences in color there between this and the last pic is the difference between afternoon light and morning light in my apartment.)