A simple baby quilt that I want to have ready to go for machine quilting next week. (Because the woman who I'm hoping will quilt it has quite a queue.)
Plan to piece the border strips tonight. Then I just need to decide on whether or not I want multiple borders.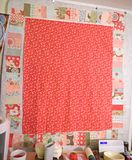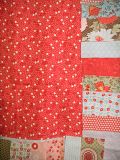 This is a yard of the red and one charm pack from Moda's Bliss line. The colors are a bit washed out in the first photo. The second shows them much better.